ChromaSilk Creme Color - Blended Neutrals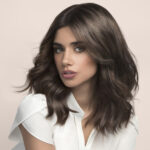 ChromaSilk Creme Color - Blended Neutrals
The ChromaSilk Blended Neutral (Nt) Family is formulated to have a neutral base, allowing the final result to be a balanced neutral tone.
Swatch:
ChromaSilk's superior dye load offers up to 100% gray coverage and rich vibrant colors. ChromaSilk is enriched with pure Silk and Keratin Amino Acids to provide shine, silkiness and long-lasting color.
Heavy dye load with multi- dimensional results.