ChromaSilk Express Tones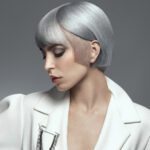 ChromaSilk Express Tones
True-to-tone, ammonia-free, tones in 5 minutes or less for blondes series & 5-15 minute tones for brunettes series.
Swatch:
Long-lasting tones that only take 5 to 15 minutes at the shampoo bowl to create!
Multi-use capabilities that allow for lowlighting, shadow roots, filling, enhancing or diminishing tones, and more!
7.5 oz of working product provide a cost savings of $0.88 per mixed oz.